"Hypergraphia" is the strange but true story of the notorious Boston eccentric, Arthur Crew Inman (1895-1963), one of the most obsessive humans ever to put pen to paper.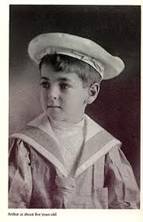 Arthur Inman spent 60 years of his life, from the age of 8, writing what is acknowledged as one of the world's longest and most fascinating diaries.
A man simultaneously at war with and hugely fascinated by the modern world, Inman was the original blogger, a man obsessed with "connectivity" decades before that word was even conceived.

"Delving into Inman's diary is like being able to eavesdrop on a conversation in a priest's confessional or psychotherapist's office. A fascinating document by turns poignant, bizarre and illuminating." - New York Times
An ambitious but modestly budgeted drama/black comedy, "Hypergraphia" explores the fascinating world created by Arthur and his wife of forty years,
Evelyn Yates Inman, in Boston's Garrison Hall, the still-standing edifice in #8 Garrison Street, Back Bay.
From the 1920s through the early 1960s, Arthur and Evelyn conducted a remarkable human experiment inside the porous walls of apartment # 604.
For four decades Arthur & Evelyn took out personal ads in all of the Boston papers ("Wanted-Talkers & Readers, to amuse an invalid author ").
Respondents, after being vetted by Evelyn for interesting personalities, unusual life stories, or animated speech, would be interviewed by Arthur.
If they were intriguing enough they might find themselves included in his mammoth diary, along with one thousand other "characters".
People from wildly diverse backgrounds and social strata came up to talk with "Mr. Inman", "Arthur", "Artie". The diary eventually contained the minutely-drawn record of not only Arthur & Evelyn's lives,
but also the hopes and struggles of those whose lives Arthur helped immortalize. These paid visitors, men and women, often became lifelong friends. The Inman Diary became the repository of their
dreams.
"Independent filmmaker Lorenzo DeStefano takes on the yeoman's task of adapting the longest recorded diary in the English language." - IMDb-PRO
At 155 volumes and 17,000,000 words, The Inman Diary, published by Harvard University Press, is a chilling epic of collective memory.
Inman kept a scathingly honest record of his politics, his social attitudes, and his fascination with women. One of the most eerily devoted yet independent wives in all of recorded literature,
the revelation of Evelyn's 30 year affair with Dr. Cyrus Rumford Pike, her husband's favorite osteopath,
is as shocking as it is predictable. The plotting and prying of his Arthur's nefarious valet/driver, Otto, has been plotting and prying for years, bent on blackmail.
All this, along with the years-long construction of the gargantuan Prudential Center just across the street, threaten to tear Arthur's world apart.
"The Inman Diary discloses aspects of American life only sporadically touched up in contemporary fiction." TIME
"The Inman Diary, one of the most bizarre literary endeavors of the 20th century." THE BOSTON GLOBE
"Hypergraphia, the study of a marriage full of conflict, adoration, and co-dependency
that worked in a very odd way." THE BOSTON HERALD